Criminal Attorney Case Files
People vs. Brady Douglas
Santa Rosa Criminal Defense Attorney Case Files: People vs. Brady Douglas
The Santa Rosa criminal defense attorneys at Adams Fietz have reviewed the case of People v. Brady Douglas, filed on April 11, 2017. The California Court of Appeals considered a whether the trial court erred in denying a Wheeler motion after the prosecutor peremptorily excused two openly gay prospective jurors. (People v. Wheeler (1978) 22 Cal.3d 258 (Wheeler); see also Batson v. Kentucky (1986) 476 U.S. 79 [90 L.Ed.2d 69] (Batson).)

Both the state and federal Constitutions prohibit using peremptory challenges to remove prospective jurors based solely on group bias. (Wheeler, supra, 22 Cal.3d at p. 272; Batson, supra, 476 U.S. at p. 84.) "It is well settled that '[a] prosecutor's use of peremptory challenges to strike prospective jurors on the basis of group bias--that is, bias against "members of an identifiable group distinguished on racial, religious, ethnic, or similar grounds"--violates the right of a criminal defendant to trial by a jury drawn from a representative cross-section of the community under article I, section 16 of the California Constitution.' " (People v. Hamilton (2009) 45 Cal.4th 863, 898 (Hamilton); Wheeler, supra, 22 Cal.3d at p. 272.) "Such a practice also violates the defendant's right to equal protection under the Fourteenth Amendment to the United States Constitution." (Hamilton, at p. 898; Batson, supra, 476 U.S. at p. 88.)

Although the United States Supreme Court has yet to address whether Batson extends to sexual orientation, the Ninth Circuit held in SmithKline Beecham Corp. v. Abbott Labs. (9th Cir. 2014) 740 F.3d 471, 484 (SmithKline), that equal protection prohibits peremptory strikes based on sexual orientation under Batson. The Court in this case also found that excluding prospective jurors solely on the basis of sexual orientation runs afoul of the constitutional principles espoused in Batson/Wheeler.

To determine whether a prosecutor impermissibly used peremptory challenges to remove prospective jurors based on a group bias such as sexual orientation, courts engage in a three-part analysis. A defendant must first make a prima facie case by demonstrating that the facts give rise to an inference of discriminatory purpose. (People v. Cornwell (2005) 37 Cal.4th 50, 66 (Cornwell), disapproved on other grounds by People v. Doolin (2009) 45 Cal.4th 390, 421, fn. 22 (Doolin).) If that showing is made, the burden next shifts to the prosecution to explain its challenge on the basis of permissible, group-neutral justifications. (Id. at pp. 66-67.) If such an explanation is offered, the trial court then must decide whether defendant has established purposeful group discrimination. (Id. at p. 67; Johnson v. California (2005) 545 U.S. 162, 168 [162 L.Ed.2d 129, 138] (Johnson).)

The Court of Appeals remanded the case for further proceedings so the trial court may apply a mixed-motive analysis to the peremptory challenges. On remand, the prosecutor shall have the opportunity to show that he would have stricken both jurors even without considering their sexual orientation.
why you should hire ben adams as your criminal defense attorney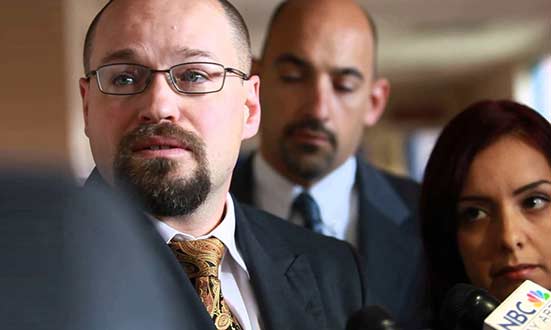 About
Criminal Defense Attorney
Ben Adams
Ben Adams is an award winning
Criminal Defense Attorney
and was voted "Best Criminal Defense Attorney in Santa Rosa" by The Bohemian.
Ben is passionate, relentless and experienced in all types of criminal law.
Criminal defense attorney
Ben Adams is the type of trusted and experienced lawyer you need on your side when you have been charged with a criminal offense.