Criminal Attorney Case Files
Baranchik vs. Fizulich
Santa Rosa Criminal Defense Attorney Case Files: Baranchik vs. Fizulich
The criminal defense attorneys at the Santa Rosa CA law firm of Adams Fietz have reviewed the case of Baranchik v. Fizulich, filed April 19, 2017. In this case the Court of Appeals considered claims regarding a violation of constitutional rights under 42 U.S.C. § 1983, including excessive force, false arrest, and malicious prosecution. For the purposes of this blog, the Court of Appeal set reviewed the law regarding a warrantless arrest.

A peace officer may make a warrantless arrest when "[t]he officer has probable cause to believe that the person to be arrested has committed a public offense in the officer's presence." (§ 836, subd. (a)(1).) "The term 'probable cause' has an established meaning in connection with criminal proceedings, and signifies a level of proof below that of proof beyond a reasonable doubt, or even proof by a preponderance of the evidence." (People v. Hurtado (2002) 28 Cal.4th 1179, 1188–1189.) "'Reasonable cause to arrest exists when the facts known to the arresting officer would lead a reasonable person to have a strong suspicion of the arrestee's guilt.

This is an objective standard. 'It is the right to arrest that is being tested. . . . The question with which we are concerned is not "why did the officer want to arrest this particular defendant?" but rather "was there reasonable cause to arrest this particular defendant?" The arresting officer's secret intentions, hopes, or purposes have nothing to do with the legality of the arrest. The legality of the arrest which is based upon reasonable cause is tested by objective standards . . . .'

'Sufficient probability [that a crime has been committed], not certainty, is the touchstone of reasonableness under the Fourth Amendment.'"' (People v. Thompson [2006] 38 Cal.4th [811,] 820.)" (Levin v. United Air Lines, Inc. (2008) 158 Cal.App.4th 1002, 1018.) "If the facts that gave rise to the arrest are undisputed, the issue of probable cause is a question of law for the trial court."
why you should hire ben adams as your criminal defense attorney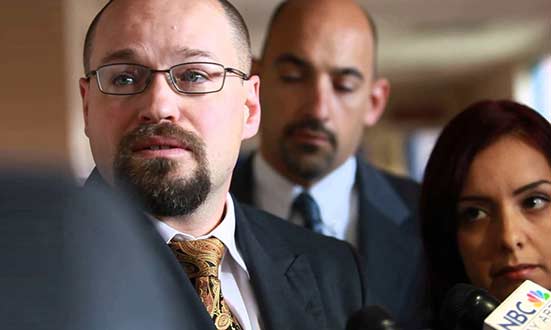 About
Criminal Defense Attorney
Ben Adams
Ben Adams is an award winning
Criminal Defense Attorney
and was voted "Best Criminal Defense Attorney in Santa Rosa" by The Bohemian.
Ben is passionate, relentless and experienced in all types of criminal law.
Criminal defense attorney
Ben Adams is the type of trusted and experienced lawyer you need on your side when you have been charged with a criminal offense.